We all know that learning a new graphic technique means an awesome addition to our digital scrapbooking skills. Most especially if they are easy to do, wonderful to look at and on top of that, offer a unique and refreshing appearance to our layouts. Being familiar with Engrave Effect is one of those technique that a digital scrapbook maker should be proud of. Here is one way to make an engrave effect that somewhat resembles a pressed woodwork.
We'll show and try it out in this wood plank from Digital Scrapbooking Elements Vintage Sheets (CU) by Mistica Design. Read on and follow the instructions:
Open any element with a wood surface.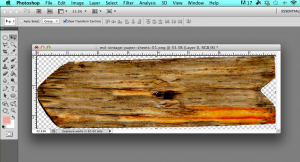 Add a new layer and get the Text Tool from the toolbar. Type in the text or word/s you would like to engrave using the colour white for the text.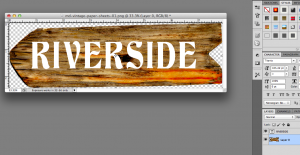 Go to the Layers Panel and double click on the Text Layer to activate the Layer Style.
On the Blending Options tab, set the values of the Fill Opacity to 0%. Check all the other values on your computer if they match with what we have here: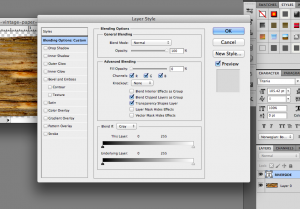 Activate the Inner Shadow by clicking on the checkbox beside it. Thereafter, change the Blend Mode to Multiply, Angle to 120 degrees, distance to 2 px, Choke to 0 px and Size to 5 px.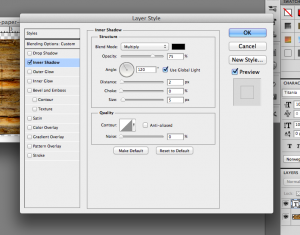 Now, activate Bevel and Emboss Style. Copy the settings we used by referring to the image below.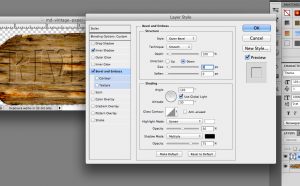 Notice how the change has changed its looks?
We're almost done.
Go to Colour Overlay and use Soft Light for the Blend Mode. Change the colour to something on the shade of brown (This depends on the colour of the wool you are using). The rule is to choose a colour darker than the wood.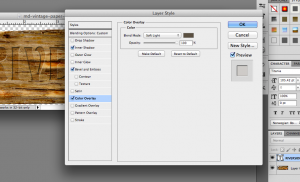 That's about it but if you would like to level it up a little bit, you can use the Pattern Overlay with something similar to the wood. Adjust the Opacity to around 50% – 65%.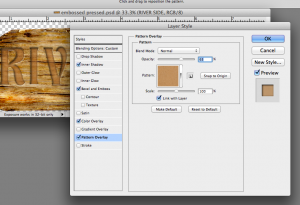 And here's the pressed wood look we did to emboss the wood plank.